---
May 17, 2023
Upcoming CCF-hosted event & published book review:
We will be hearing from Australian author David Brophy speak about his book "China Panic: Australia's Alternative to Paranoia and Pandering" (Black Inc. 2021). Brophy is a historian of China at the University of Sydney, a commentator on Australia-China Relations, and specialises in the history of Xinjiang and the Uyghurs. We believe this book provides many essential lessons from Australia's experience for understanding the situation currently unfolding in Canada. Register at: https://uvic.zoom.us/meeting/register/tZItd-2rrD4tH9dGis70ro8-C099LaQ4W3VS#/registration
This webinar follows the publication of a new review of Brophy's book, published May 16th by CCF advisory member John Price: https://rabble.ca/books/china-panic-a-wake-up-call-for-canadians/
---
April 25, 2023
Notice: New Parliamentary Petition e-4395, regarding the Government of Canada's proposed Foreign Influence Transparency Registry
"If current legislation is not adequate to deal with intimidation by foreign actors, the government should consider instead strengthening these laws. We do not believe, however, that a foreign influence registry will meaningfully address intimidation of Canadians and other kinds of foreign interference… A broad definition of foreign influence could infringe on Canadians' charter rights while stifling international business and civil society links that are beneficial for Canada. It could also create a chill within vulnerable communities, leading them to withdraw from civic engagement and public service, which will result in their further marginalization."
Presented by MP Chandra Arya, Liberal Caucus
Open for signature – April 14, 2023
Closing for signature – July 13, 2023
View & Sign the petition here: https://petitions.ourcommons.ca/en/Petition/Details?Petition=e-4395
---
April 4, 2023
CCF Advisory Members release supplementary Statement to Open Letter & Signatures Update!
In response to media coverage on our Open Letter (both supportive and negative coverage), the authors have release this statement, available with the Open Letter.
---
The CCF Advisory Board has released an open letter to the Government of Canada regarding its proposal to address foreign influence
March 21, 2023
Media Advisory
Canada-China Focus has released an Open Letter to the Right Honorable David Johnston, Independent Special Rapporteur on Foreign Interference, Government of Canada. 
While affirming Canada's right to demand respect for sovereignty and non-interference, the signatories caution that recent questioning of Senator Yuen Pau Woo regarding his loyalties, or the insinuations that newly elected Vancouver Mayor Ken Sim gained his victory through election interference are signs that such discussions are turning toxic and can be dangerous.
"We have also seen how similar unfounded accusations damaged or destroyed the lives and reputations of distinguished Canadians such as Maher Arar, John Holmes, Paul Lin, or Herbert Norman," the statement points out.
Unfortunately, say the authors, too often "'foreign interference' is simply a codeword for "Chinese" with all the racist overtones that have been imposed on that term."
The nine signatories to the letter represent a group of diverse Canadian voices concerned about the recent toxic atmosphere being created in current discussions on "foreign interference" and national security.
---
Dec 13, 2022:
CCF has released its statement for 2023 plans. Click here to read what's in store for Canada-China Focus in the new year!
---
Dec 13, 2022:
CCF is starting its fundraising campaign to support another year of education, public events, and advocating for peace, anti-racism, and climate justice.
Have you enjoyed the work of the Canada-China Focus project this year and want to support next year's activities?
Consider making a tax-deductible donation: 
You can do so by visiting the UVic Giving Webpage, selecting "other" from the drop-down menu, and typing "Canada-China Focus" in the comment box.
For questions on how to donate, contact Kelly Schaecher at leadershipgiving3@uvic.ca.
---
On October 24, 2022 Canada-China Focus and Carleton University's Norman Paterson School of International Affairs hosted the conference Hardtalk: Canada and the Asia Pacific Conference. This one-day, in person conference brought together diverse and anti-racist voices seeking an independent and inclusive foreign policy for Canada, one that considers innovative agendas for peace and justice in Asia Pacific.
Topics of discussion included Canada-China relations, anti-Asian racism, Canada's Indo-Pacific Strategy, rethinking Canadian foreign policy, and evaluating Canada's past and probable future approaches to its relations with Asia Pacific nations.
A recording of this timely conference can be found below:
---
July 22, 2021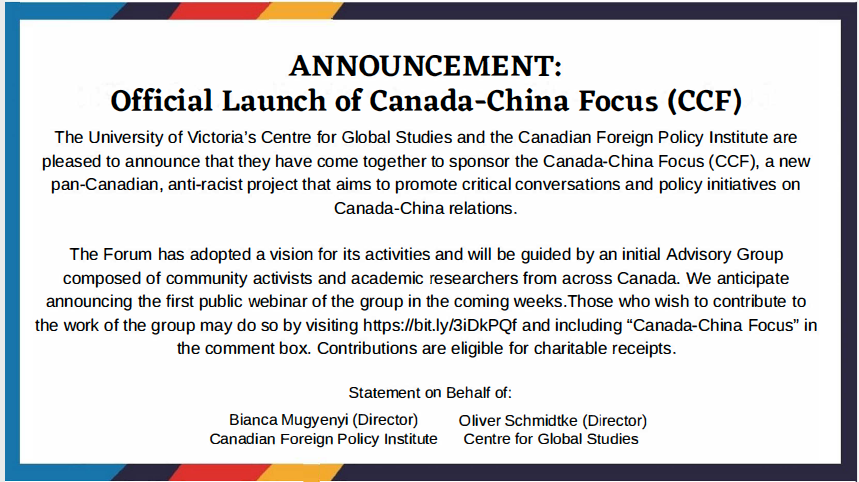 ---
The CCF is Hosted By: