---
August 18, 2023
Upcoming Event by CCF & CFPI:
For over ten years, CSIS (Canadian Security Intelligence Service) and other public security agencies have been targeting Chinese Canadians politicians and researchers as a fifth column for the People's Republic of China. Some Canadian journalists rely heavily on CSIS in what amounts to a form of modern Sinophobia. This discussion, featuring Andrew Mitrovica, Midori Ogasawara and Georgia Kelly, will explore the ethics of responsible, anti-racist reporting in an era of misinformation.
REGISTER HERE: https://us06web.zoom.us/webinar/register/WN_tmRgVyiPStyIQ8ceYM3a1Q#/registration
SPEAKERS:
Andrew Mitrovica is a writer and teacher. He spent a long time as an investigative reporter at various places in Canada, including CBC, CTV, the Globe and Mail, and Walrus magazine. He wrote a book about Canada's spy service: Cover Entry: Spies, Lies, and Crimes Inside Canada's Secret Service. (Random House). He has been a columnist with Al Jazeera English for seven years.
Midori Ogasawara is an Assistant Professor in the Department of Sociology at the University of Victoria. Her research focuses on social consequences of surveillance and technologies, including national security intelligence activities. Dr. Ogasawara worked for Japan's national newspaper The Asahi Shimbun as an investigative journalist. In 2016, she interviewed the U.S. National Security Agency (NSA) whistleblower Edward Snowden and published two books (2016, 2019) that unveil the NSA's secret spying activities in Japan. Her latest article discusses how Canada's legislation has been legalizing previously illegal surveillance activities (2022).
Georgia Kelly is an assistant editor at rabble.ca, and a section editor at the University of Toronto's student newspaper the Varsity. She likes to write about immigration and multiculturalism in Canada, as well as labour and housing issues. Moderator: Bianca Mugyenyi, Canadian Foreign Policy Institute
---
July 7, 2023
Updates:
News Coverage of 1923: Challenging Racisms Past and Present
"New publication tells story of how Indigenous, Black and Asian-Canadians fought against racism from 1912 to 1923". CBC Radio: The Early Edition with Stephen Quinn. 29 June 2023.
Fong, Denise & the 1923 Collective."100 Years After the Racist Chinese Exclusion Act, New Threats Loom". The Tyee. 15 June 2023.
ICYMI: Webinar hosted by the Canadian Foreign Policy Institute "VOICES FROM OKINAWA: The role of Canada and the US in Militarising the Pacific"​
---
June 15th, 2023
LAUNCH OF NEW LEARNING RESOURCE: 1923: Challenging Racisms Past and Present
Chinese language translations and print copies will be available in the near future.
CANADA-CHINA FOCUS, in partnership with the Stop Anti-Asian Hate Crimes Advocacy Group, is pleased to announce the release of a new learning resource, 1923: Challenging Racisms Past and Present.
Authored by Denise Fong, John Endo Greenaway, Fran Morrison, John Price, Carmen Rodriguez de France, Sharanjit Kaur Sandhra, Timothy J. Stanley, this 60-page booklet tracks the upsurge and assertiveness among Indigenous, Black and and Asian Canadian communities as well as the nascent labour movement in the decade before the 1923 Chinese Exclusion Act.
(Ctd.) Chronicling how a racist backlash arose in response to this militancy, 1923 provides a blow-by-blow account of the struggle against this racist piece of legislation as well as other attacks that marked the beginning of two hard decades in Canada."An Act Respecting Chinese Immigration" came into effect on July 1, 1923, prohibiting the arrival of newcomers from China. It forced all people of Chinese heritage, including the Canadian-born, to register with the federal government, or be subject to deportation.Co-author Dr. Timothy J. Stanley recalls: "Annie Fong, my mother, was 8 years old when she had to register under the Exclusion Act. She was born and raised in Montreal where she lived to the age of 100 and kept the certificate with her for her entire life." (see Annie Fong's certificate, p. 46).Federal and provincial governments also introduced measures at the time that further restricted immigration from Japan, made attendance in residential schools compulsory, and dispatched the RCMP against the Six Nations of Grand River.

Regarding this era,  co-author Dr. Sharanjit Kaur Sandhra: "These were hard years, but communities remained sites of resistance, drawing on the experience of our ancestors."

As a history of the present, the authors of 1923 suggest a similar backlash may be in the works, propelled by white nationalism, conservative "anti-woke' campaigns, escalating environmental racism, and recurrent Sinophobia and Islamophobia.
---
May 17, 2023
Upcoming CCF-hosted event & published book review:
We will be hearing from Australian author David Brophy speak about his book "China Panic: Australia's Alternative to Paranoia and Pandering" (Black Inc. 2021). Brophy is a historian of China at the University of Sydney, a commentator on Australia-China Relations, and specialises in the history of Xinjiang and the Uyghurs. We believe this book provides many essential lessons from Australia's experience for understanding the situation currently unfolding in Canada. Register at: https://uvic.zoom.us/meeting/register/tZItd-2rrD4tH9dGis70ro8-C099LaQ4W3VS#/registration
This webinar follows the publication of a new review of Brophy's book, published May 16th by CCF advisory member John Price: https://rabble.ca/books/china-panic-a-wake-up-call-for-canadians/
---
April 25, 2023
Notice: New Parliamentary Petition e-4395, regarding the Government of Canada's proposed Foreign Influence Transparency Registry
"If current legislation is not adequate to deal with intimidation by foreign actors, the government should consider instead strengthening these laws. We do not believe, however, that a foreign influence registry will meaningfully address intimidation of Canadians and other kinds of foreign interference… A broad definition of foreign influence could infringe on Canadians' charter rights while stifling international business and civil society links that are beneficial for Canada. It could also create a chill within vulnerable communities, leading them to withdraw from civic engagement and public service, which will result in their further marginalization."
Presented by MP Chandra Arya, Liberal Caucus
Open for signature – April 14, 2023
Closing for signature – July 13, 2023
View & Sign the petition here: https://petitions.ourcommons.ca/en/Petition/Details?Petition=e-4395
---
April 4, 2023
CCF Advisory Members release supplementary Statement to Open Letter & Signatures Update!
In response to media coverage on our Open Letter (both supportive and negative coverage), the authors have release this statement, available with the Open Letter.
---
The CCF Advisory Board has released an open letter to the Government of Canada regarding its proposal to address foreign influence
March 21, 2023
Media Advisory
Canada-China Focus has released an Open Letter to the Right Honorable David Johnston, Independent Special Rapporteur on Foreign Interference, Government of Canada. 
While affirming Canada's right to demand respect for sovereignty and non-interference, the signatories caution that recent questioning of Senator Yuen Pau Woo regarding his loyalties, or the insinuations that newly elected Vancouver Mayor Ken Sim gained his victory through election interference are signs that such discussions are turning toxic and can be dangerous.
"We have also seen how similar unfounded accusations damaged or destroyed the lives and reputations of distinguished Canadians such as Maher Arar, John Holmes, Paul Lin, or Herbert Norman," the statement points out.
Unfortunately, say the authors, too often "'foreign interference' is simply a codeword for "Chinese" with all the racist overtones that have been imposed on that term."
The nine signatories to the letter represent a group of diverse Canadian voices concerned about the recent toxic atmosphere being created in current discussions on "foreign interference" and national security.
---
Dec 13, 2022:
CCF has released its statement for 2023 plans. Click here to read what's in store for Canada-China Focus in the new year!
---
Dec 13, 2022:
CCF is starting its fundraising campaign to support another year of education, public events, and advocating for peace, anti-racism, and climate justice.
Have you enjoyed the work of the Canada-China Focus project this year and want to support next year's activities?
Consider making a tax-deductible donation: 
You can do so by visiting the UVic Giving Webpage, selecting "other" from the drop-down menu, and typing "Canada-China Focus" in the comment box.
For questions on how to donate, contact Kelly Schaecher at leadershipgiving3@uvic.ca.
---
On October 24, 2022 Canada-China Focus and Carleton University's Norman Paterson School of International Affairs hosted the conference Hardtalk: Canada and the Asia Pacific Conference. This one-day, in person conference brought together diverse and anti-racist voices seeking an independent and inclusive foreign policy for Canada, one that considers innovative agendas for peace and justice in Asia Pacific.
Topics of discussion included Canada-China relations, anti-Asian racism, Canada's Indo-Pacific Strategy, rethinking Canadian foreign policy, and evaluating Canada's past and probable future approaches to its relations with Asia Pacific nations.
A recording of this timely conference can be found below:
---
July 22, 2021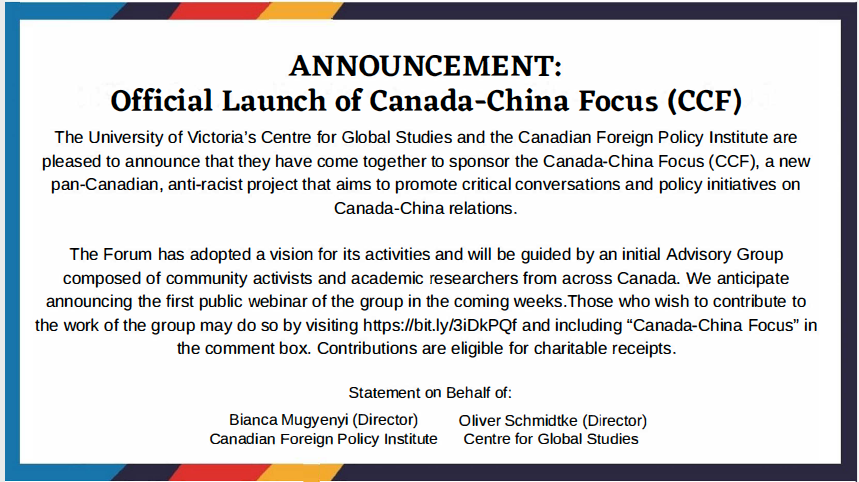 ---
The CCF is Hosted By: